Best hammock Hot Tent with stove jack for sale, Features and Pros & Cons
Jun 9, 2021
Tents have been the preferred refuge for those camping outside for thousands of years. They provide shelter, a barrier against creepy crawlies, and a sense of comfort. The Lonewolf902 Hammock Hot Tent with Stove Jack is made to be a four-season hammock shelter. It has a perfect waterproof ranking and is ready to use with a wood-burning tent stove inside.
This is a one-of-a-kind outdoor shelter built especially for hammock sleepers. This can be seen in the image below. There is no floor in this single-layer shelter.
On the top, there is a pipe jack. Heat-resistant parts are reusable, and Velcro attached to the two holes. When not in service, you remove them and use the incorporated flaps to seal the openings. The pipe jacks have spots that are 3.3 inches (8.5 cm) in diameter. We have included it in our list of stove jack tents because of this feature.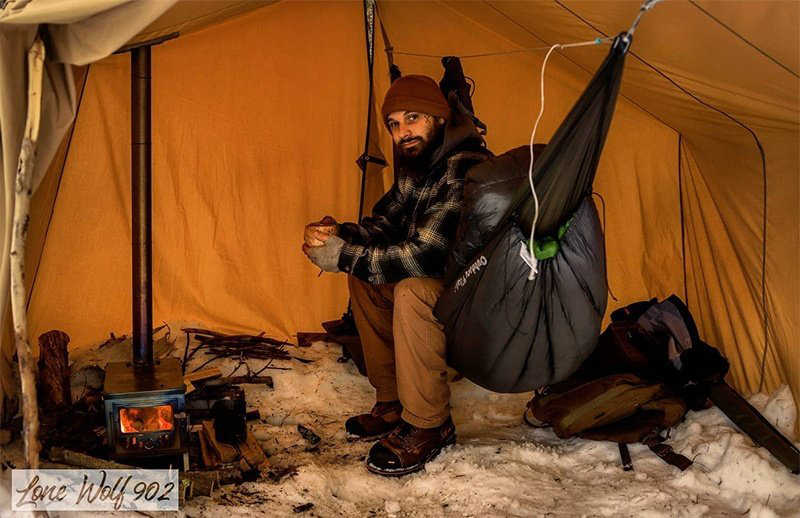 Structure and Dimensions:
As one would expect from a shelter designed to be used over a traditional hammock, this is a tall structure. The most critical measurements are shown in the image below: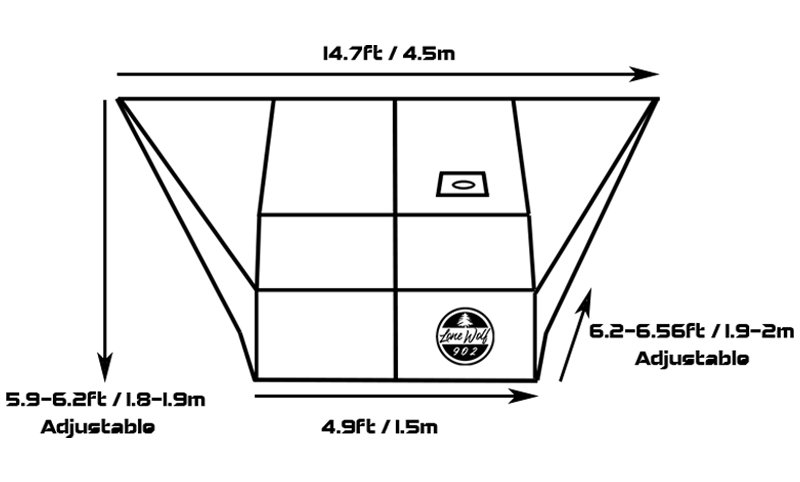 Lonewolf902's Canvas Hammock Tarp & Hot Tent is a winter hammock camping hot tent that is compatible with most tent wood stoves and all types of camping hammocks.

Large Size: 4.5m x (1.8-1.9) m x (1.9-2)m / 14.7ft x (5.9-6.2)ft x (6.2-6.56)ft.

According to various setup heights, the tent area can be changed at will, making it more suited for rocky terrain in the wild.

Canvas Cloth: sparks from the stove chimney will not readily scald. Canvas fabric comes with 70 per cent cotton, 30 per cent polyester and a 2000mm waterproof rating. When scratched or burned, it may also be cleaned, making it ideal for long-term use.
Dimensions are as follows:
14.7 x 14.7ft / 4.5 x 4.5m as unfolded square

23.6inch*6.3inch*6.3inch/60cm*16cm*16cm as folded

12 pounds/5.5 kilograms

Specifications:
Six guy out points on either side increase wind resistance and internal space.

On the deck, there is 8 guy out points.

Stove jack detachable / Chimney cover.

The ability to withstand tearing and stretching.

Large inner space/large side door for quick access.
Other Specifications:
Capacity / Seasons:
1-2 Person / 4 Season
Tent Fabric
Canvas: (30% Polyester + 70% Cotton)
Waterproof:
2000 mm
Tarp Size
Square :14.7 x 14.7 ft / 4.5 x 4.5 m
Weight:
12 lbs / 5.5 kg
Joint Treatment:
Seamed
Colour:
Khaki
Stove Jack:
High-Temperature Resistance
Very compact and lightweight when packed.

Lonewolf902 Hammock Hot Tent is quite adaptable and scalable.

It is an ideal choice for camping on a budget.

Lightweight and easy to carry.

They are great for rugged, rocky, or sturdy ground where it is not easy to pitch a tent comfortably.

A fantastic choice for the hot summer months.
Cons:
Does not have any bug or critter security.

When it comes to insulation, the Hammock Tarp is not as warm as tents or bivvies.

As far as additional space is concerned, hammocks have less of it comparatively.

To set it up, you will need trees around.

This is not an ideal option in the winter because convective (air current) heat loss may be significant.
About Us
Company Policies
User Center
Newsletter

Join our community