The Best Camping Stove of 2022-Camping Gaer Guide
Jun 23, 2022
If you want to go camping, whether you want to prepare simple meals or delicious dinner, you can't do without a practical stove. Today, I will introduce to you the tent stove that will sell well in 2022. Get ready for your camping!
According to our analysis of Amazon's sales volume and favorable comments, we have selected the following stoves for you to choose from. You can learn how to choose a high-quality stove according to how to choose a suitable stove.
I think no one wants to camp because hunger destroys a good experience, so get ready!
Each of these furnaces is durable, efficient and powerful. Many have many special features that make them easier to use. But everyone is best suited to different types of campers - such as budget campers, food camp chefs, large groups, and those who often camp in winter.
Quick View
Pomoly T1 Stove Perspective Titanium Tent stove

Winnerwell Fastfold Titanium Tent Stove

Gstove Cooking View Camping Stove

Pomoly TIMBER Wood Stove

Camp Chef Alpine Heavy Duty Cylinder Stove

Guide Gear Outdoor Wood Stove

Danchel Outdoor Ultralight Titanium Camping Stove

Fltom Camp Tent Stove

Russian-Bear Camping Stove

TMS Portable Military Camping
1. Pomoly T1 Stove Perspective Titanium Tent stove
A brand led by a group of explorers who share a love for camping and outdoor adventures is gaining popularity for its titanium tent wood stoves, without a break. POMOLY started as a teepee selling brand but soon pitched for tent wood stoves. After making brilliant improvements in the overall design, it has grown to be one of the leading titanium tent stove selling companies.
T1 Stove PERSPECTIVE Titanium Wood Stove for Hot Tent is made with Grade 1 titanium; half the weight and double the stainless steel strength. Titanium is powered with corrosion resistance, make it the ideal metal for the tent wood stoves. Its easy-to-carry and foldable design outplay any ordinary stove. Its high heat transfer capacity warms up the tent, providing you with maximum protection against cold snaps and snowy winters. You can cook your meals and dry your clothes with this 3-in-1 folding tent stove.
Specifications
Weight: 8.6 lb
Advantages
T1 Stove Perspective Titanium Tent stove offers high-impact toughness, so your stove lasts you years without being deformed.
Its adjustable legs make it easier to pack and stay in place on uneven grounds.
It heats the tent, making you sleep better in freezing temperatures.
It can be customized to a cooking stove without any harsh adjustments and keep your dry during cold and moist weather.
Woodstove pipes let the smoke escape directly into the air.
Makes outdoor camping cozy and relaxing in harsh winters.
Disadvantages
You may need to keep loading the woods from time to time, as wood compartment small dimensions cannot take a lot of wood at a time.
Best For - It is best for campers looking for a safe and portable wood stove option for combating cold temperatures in overnight winter camping trips.
2. Winnerwell Fastfold Titanium Tent Stove
When talking about ultra-light and easy to assemble wood-burning stoves, a China-based company – Winnerwell - comes to the mind. With expertise in recasting stainless steel and titanium into chic and portable folding tent stoves under its belt, Winnerwell is the best place to look for all of your camping gear and accessories.
Winnerwell Fastfold Titanium Tent Stove is the best option if you are looking for titanium tent wood stoves that do not rust and look fantastic on the outside as well. The high durability of titanium protects it from harsh conditions as rains and hailstones. With the weight of 4lbs, this stove covers all of your primary camping needs, from cooking to drying clothes. It is warm and safe for long winter nights when camping and backpacking.
Specifications
Weight: 4.4 lb
Material: 0.5mm Thickness Titanium
Advantages
Compact design; easy to pack and assemble
High resistance to corrosion
Chimney pipe keeps the tent smoke-free
The heat from the stove keeps you snugged
Convertible to fire pan
Comes with a spark arrestor, and a carry bag for easy travel
Disadvantages
Expensive
Best for - campers who are searching for a lightweight but sturdy tent stove for sale that lasts them ages
3. Gstove Cooking View Camping Stove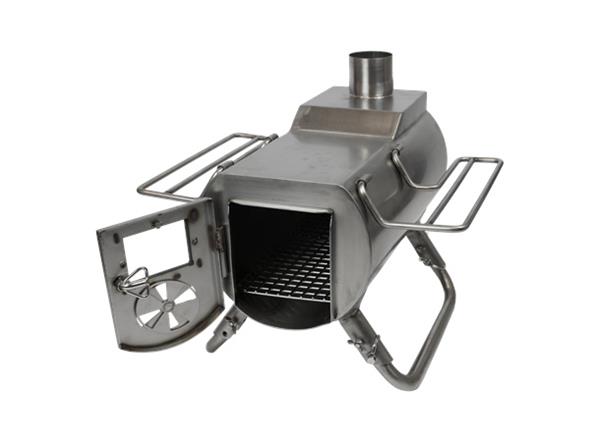 Gstove, a Norway-based business initiated by a family who loved going on outdoor adventures, is a one-stop-shop for all the camping related stuff. Be it a Tipi, fire steel, or any stove equipment, everything to cater to an explorer's needs is available at Gstove. Gstove created accessories keeping in view the trouble that one encounters during hunting and camping.
Gstove Cooking View Camping Stove is designed with utmost perfection and care. This folding tent stove comes with a combined oven for a full-fledged homelike experience outdoors. In harsh winter nights, serve yourself some freshly baked pizza and cookies in your tent with a mug of coffee and make your adventure worthwhile.
This tent wood stove is super-light and adjustable as per requirements. With easy to assemble hardware, it doesn't take long to get it all together. The efficient heat conduction system keeps you warm and cozy all night. The cooking view camping stove comes along an ash scraper to keep the oven and grill free of ashes.
Secifications
Weight: 20.72 lb
Material: Stainless Steel
Advantages
Integrated oven for outdoor feasts
Made of stainless steel; exotic finish and robust design
Easy to assemble parts
Ideal as a heat source when used with the hot tent
Perfect for backcountry skiers, hunters, and explorers
Affordable
Comes with an additional grate and pipes for chimney
Disadvantages
None
Best for - This affordable camping stove is a hassle-free option for people who are looking for a homelike experience while on the move; safe and efficient cooking outside of the home.
4. Pomoly TIMBER Wood Stove
POMOLY has been recognized as the equipment brand that has everything you need to kick-start your adventure. This brand is good at providing well-built titanium tent stoves that maintain balance on the bumpy grounds. This brand offers reliable and safe hot tent wood stove options to keep you warm and comfy all night.
This light but deformation-resistant TIMBER Wood Stove is made with titanium sheets that are as thin as 0.6mm. Hard to warp titanium gives enough strength to the stove that it can bear more than 1600-degrees of temperature. The fireproof glass creates the ambiance and makes wood crackles and pops of a wood fire more fun. The slideable air intake controls the fire's burn rate, giving you full authority over the stove.
Secifications
Weight: 5 lb
Material: 0.6mm Thickness Titanium
Advantages
Easy to set-up
GR1 titanium tent wood stove
Comes with a storage pouch
Cooks food as well
Collapsible legs offer compactness
Disadvantages
May require you to buy-side accessories
Best for – It is a viable preference for people who have hot tents and looking for matching folding tent stoves to pair their tent with. It offers a long titanium pipe to release smoke and gases out of the tent effectively.
5. Camp Chef Alpine Heavy Duty Cylinder Stove
The performance of the Camp Chef is fantastic, but we know this stove won't be for everyone. Some folks need smaller stoves for smaller shelters, while others need something portable enough to hike into the backcountry with.
Specs:
– Weight: 74 lbs (33.6 kg)
– Size: 24" x 20" x 22" (51cm x 61cm x 56cm)
– Stove type: Classic/non-foldable
Pros
Camp Chef quality build throughout
– Excellent option for cooking
– Large and powerful enough for larger tents
Really the only downsides to the Camp Chef are its price and its chimney. As far as price goes, the Alpine is one of the most expensive stoves on our list. Still, if you want a well-designed unit that's built to last a lifetime, you just can't go wrong with Camp Chef quality.
6. Guide Gear Outdoor Wood Stove
You will love the Guide Gear's old-school charm, rugged steel/cast-iron construction, and long 3-5 hour burn times. Its thick steel construction makes it one of the heavier stoves on our list at 42 pounds, but it also makes for a fantastic cooking surface, especially when paired with Guide Gear's accessory bundle, which includes two side racks that work great for warming/simmering duty.
Specs:
– Weight: 42.4 lbs (19.2 kg)
– Size: 20" x 11" x 13" (51cm x 14cm x 33cm)
– Stove type: Classic/non-foldable
Pros
Old school steel stove charm
– Long burn time
Cons
Ventilation tough to dial in
– Accessory kit sold separately
– Heavy for its size
7. Danchel Outdoor Ultralight Titanium Camping Stove
The second complaint we have (as do several buyers) are the Danchels edges. So pointy! They're not exactly razor-sharp or jagged, but the edges on the top and bottom of the firebox (as well as the roll-up chimney) are sharp enough that Danchel includes gloves with every purchase for handling. Speaking of the chimney, note that due to the small size of the Danchel Ultralight, the weight of the chimney can topple the stove itself if not secured correctly. Danchel includes a spark arrestor with guy-out points (similar to the Winnerwell) for this purpose, but it takes a little extra time and skill to set up correctly.
Specs:
– Size: 15" x 8" x 11" (38cm x 20cm x 28cm)
– Stove type: Ultra-light/packable
Pros
– Ultralight tent wood stove at an affordable price
– Complete package with flue, damper, and spark arrestor
Cons
– Setup is more involved than the competition
– Titanium sheet-style chimney = Steep learning curve
8. Fltom Camp Tent Stove
The Fltom Camp Stove is a small yet heavy-duty carbon steel stove with a sleek, naturally black finish, and better suited for a stationary camping trip than backpacking.
The Fltom stove comes equipped with a double-walled firebox wall for secondary ventilation and a heat-resistant glass door. Together, these work to prevent smoke leakage and will keep your family safe while staying warm.
Specs:
Size: 11.4" x 7.95" x 8.66"
Weight: 23.4 lbs
Pros
Glass viewing window
Side shelves provide lots of space
Cons
Heavy
9. Russian-Bear Camping Stove
The Russian Bear Camping Stove is significantly pricier than its competitors. The reason is that both sidewalls and the door are made from special heat-resistant ceramic glass.
Compared with stainless steel, this ceramic glass offers a higher heat output. Additionally, you'll have a 360-degree view of the fire inside the stove as it fills your tent with an orange glow.
Pros
Ceramic glass sidewalls
High-quality construction and materials
Comes with accessories
Cons
Triple the cost of competing stoves
10.
TMS Portable Military Camping
The TMS Portable Military Camping Wood Stove has a heavy and stable alloy steel body. At less than 25 pounds, it's still not too big to carry around but ample enough to heat a large tent.
There is just one crucial safety hazard to take note of with this stove. The paint is not heat-resistant and intended only to protect the alloy steel from rust before purchase.
Specs:
Size: 18" x 10.25" x 11"
Weight: 24.55 lbs
Pros
Drying racks
Trap door for cleaning ashes
Pros
No flat cooktop
About Us
Company Policies
User Center
Newsletter

Join our community